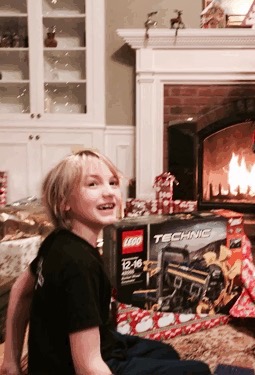 The holiday season has come and gone again. It is a favorite time of year in our home like it is in so many other homes. The rush to get out orders at the last possible moment for last minute shoppers, making the employees where elf hats while they work, and the one week a year between Christmas and New Year's Day when I have a whole lot less work to do.
Yes, I realize I said 'home'. Truth is, I practically live at the warehouse right up until the last-day-to-ship-in-order-to-make-it-to-the-customer's-house-in-time-for-Christmas.
We make it work. My wife drinks way too much tea and bounces back and forth between home, warehouse, Amazon.com, and seasonal events to balance the our family time and work time between memorable experiences and creating memorable experiences for other families through our products.
This year's big seasonal item was the Maker's Chest by Larscraft, a custom, heirloom Lego storage chest. My son, Lars, is an avid Lego fan. It was his idea. He loves anything Minecraft, including the Minecraft Lego sets.
Just when I thought he had all of the Minecraft sets, they came out with more of them. Onto the Christmas list the Minecraft Lego sets go alongside a massive digger Technic set. That one was a bit of a shock, sticker shock.
At 8 years old, my son was undaunted by the 14 and up age rating on the Technic set. He did what every parent dreads and put that set as the sole gift from 'The Big Guy' for Christmas. At a conservative $250 for the lego set, it is sure to provide entertainment for hours. As a small business owner, I break those hours down in employee labor costs and think of the productivity I can get with $250.
The Minecraft Lego sets he sent off on his lists to aunts and uncles and grandparents. Lucky them. Those sets weren't about to break every piggy bank in the house. This massive digger set nearly needed a 'Go Fund Me' page on its own.
So, the dilemma begins. Here is a child who loves Lego and Minecraft SO much that he created and designed a product combining these two passions to start a business that he hopes will help to fund his college education. What parent isn't doing backflips at this kind of dedication and planning and ambition?
Well, me. I'm not so good at backflips, but I did several one-legged ecstatic jumps for joy and a whole lot of fist bumps along the way of designing his Maker's Chest product with him.
So here he comes, asking for a single, solitary, $250 gift for Christmas. What's a Dad to do? Well, according to my son, he leaves it up to Santa. Thank goodness for my son's superior advice. The Big Guy came through with flying colors and, in Lars' words, 'saved the family a whole lot of money.'
Thanks, Santa!